Finland is a fisherman's dream destination. There are thousands of lakes, hundreds of rivers and thousands of kilometers of Baltic Sea's shores – not to mention all the islands. Fishing is allowed almost everywhere – for tourists, too.
So is it any wonder that Finland with a population of 5.5 million has as many as 1.5 million recreational fishermen? Many go fishing only at the summer cottage, while others spend all their free time (and money) on fishing trips. Some fishermen are not interested in wilderness trips at all, as there are many urban fishing destinations in Finnish cities.
This article introduces Finland's most common fish species and explains what permits and tools are needed to catch them. At the end of the text you can find the best fishing destinations in Finland – places where tourists, too, can fish on their own or join a professionally guided fishing trip.
Which fish species are caught in Finland?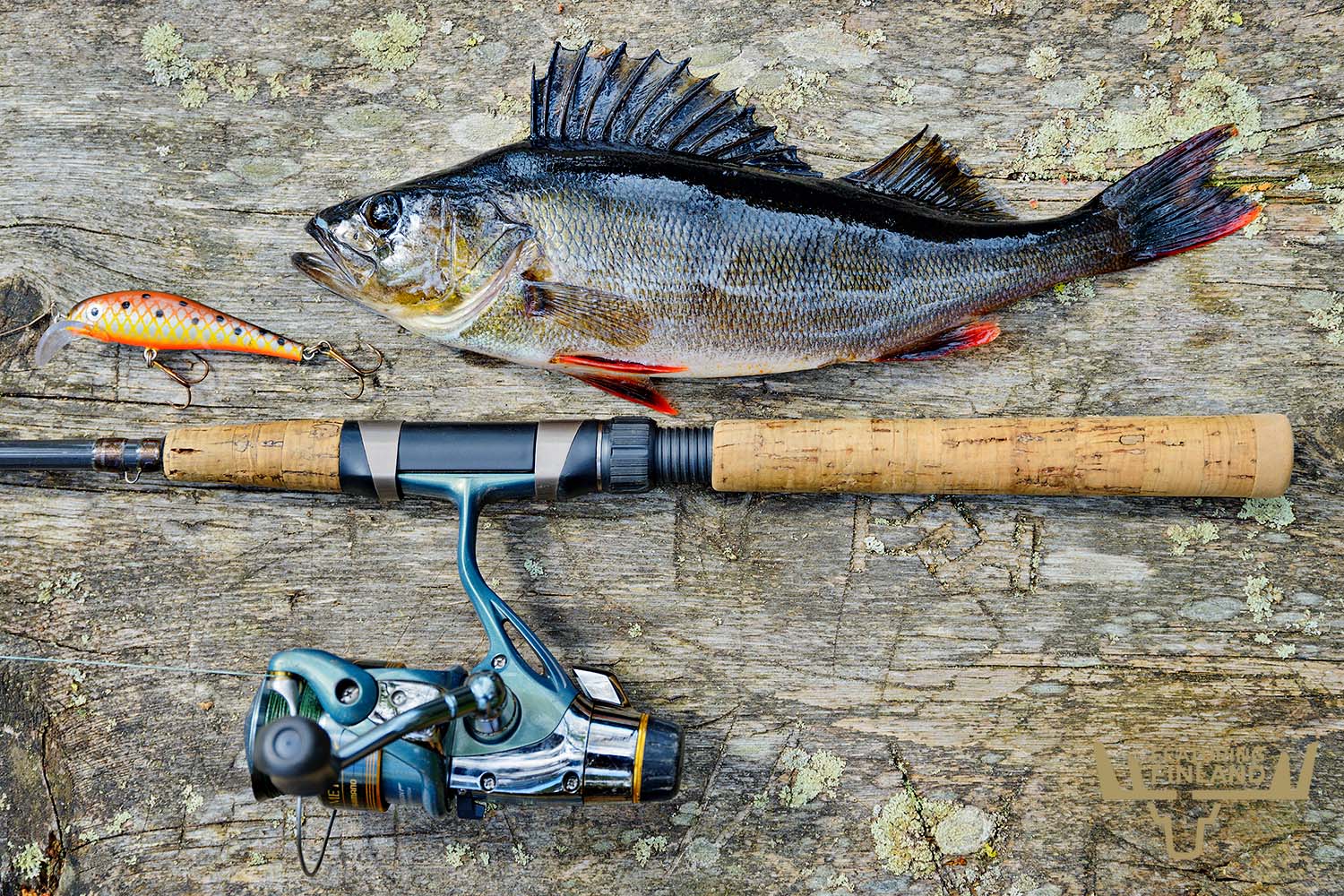 Perch is the national fish of Finland and a very common catch around the country. Perch can be caught with almost any gear and bait. Children can catch small perch easily with a simple rod and hook with a worm bait, but the most effective way to catch a larger perch weighing several hundred grams is to jig off a boat or shore with a rubber worm. Perch are allowed to fish all year round and have no minimum length.
Pike is the largest predator in Finland. It can grow up to 15 kilograms, but the usual catch is a 1-3 kilogram pike, which is also the best size for eating. Pike can be caught all year round, especially in summer, but the best times to catch large pike are spring (March-April) and autumn (October-November). Good lures for pike are jerkbaits, suspensive lures and large wobblers. There is no minimum or maximum length for pike, but a responsible angler releases very large pikes (over 90 cm) to continue their family.
Zander (a.k.a. pike-perch) is an excellent fish to eat, and therefore quite common on a restaurant menu. The best time to fish for zander is summer. In May and June the best method of fishing is jigging. In August, when the water has warmed up, zander is caught by trolling near the surface at a very slow speed. The minimum length of zander is 42 cm, but many fishing areas have a larger limit of 45 cm.
Salmon is a fisherman's dream catch, and in Finland that dream is accessible to anyone: Lapland has excellent salmon rivers whose fishing permits are reasonably priced. Salmon are caught from the riverbank with a fly or by trolling from a rowing boat. Baltic salmon can grow up to a 30-kilogram giant, so a 10-kilo salmon is by no means an impossible catch! The best salmon river in Lapland is Tornionjoki, where the minimum length of salmon is 50 cm. The fishing season runs from the beginning of June to the end of August.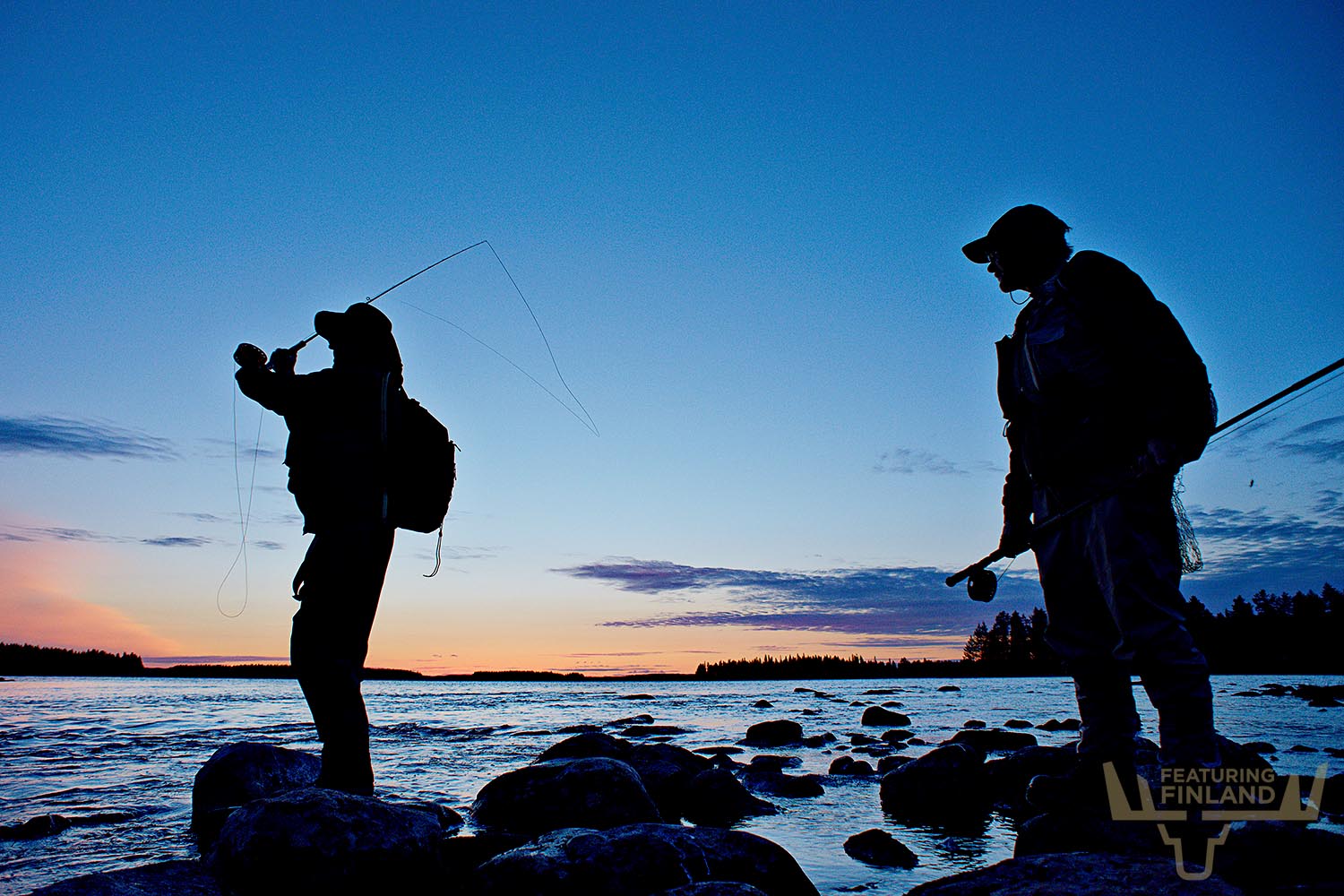 Brown trout is a strong fighter at the end of the line and a very tasty catch – but unfortunately quite rare in Finland. Planted trout (which can be identified from the adipose fin that's cut off) can be caught, for example, in the rapids of small rivers in eastern and northern Finland (limit 50-60 cm, depending on the location), but naturally born trout are endangered and therefore protected. Killing wild trout can result in a fine of several hundred euros. Brown trout are protected in rivers and streams during the spawning season in September-November.
Rainbow trout is not an original species in Finland, but it has been planted in many rivers where endangered brown trout have disappeared. Rainbow trout cannot reproduce in Finland, so every rainbow trout caught can be taken and eaten with a good conscience. Rainbow trout like to strike at colorful flies or small flashy wobblers.
Grayling is a fish from northern waters and thrives in the pools of small rivers. Grayling is a fierce fighter and popular with fly fishermen, but it can also be caught with a spinning rod with a very small lure (red-and-black is the best color combination for tiny spinners). The dorsal fin of the grayling is a magnificent red sail. The minimum length is 30-40 cm, depending on the location. Grayling tastes delicious, for example, when fried on a stick in a campfire.
Arctic char is one of the most beautiful fish in Finland, but catching it is easier said than done. Char lives in the barren lakes of the northernmost highlands of Lapland, and to get there one must hike for hours. For this reason, the most popular way to fish for char is ice fishing: in winter, the highland lakes are easily accessible by snowmobile. There are many ice fishing safaris in Lapland, where the catch is arctic char and grayling.
Fishing permits in Finland
In Finland, anyone can fish with rod and reel if the fishing permits are in order. Profits from fishing licenses are used, among other things, to plant fry.
The fisheries management fee is a "state fishing permit" that must be paid by all fishermen aged 18-64. The permit costs 45 euros / year or 15 euros / week and can be purchased online here. There is no need to pay a fisheries management fee if you are under 18 or over 65 years old, or if you fish only by simple rod-and-worm or ice fishing.
The fisheries management fee allows you to fish with one rod in almost any lake and in the Baltic Sea, but there are exceptions. In addition to the fisheries management fee, a local permit is required for some locations.
Stream waters (rivers and rapids) always require an additional local permit and usually have restrictions on, among other things, the amount of catch. For example, with a one-day permit, a maximum of three rainbow trout can be caught.
Finnish Forest Services manages fishing sites that require their own permit. Such are many rivers of Eastern and Northern Finland and the small lakes of many hiking areas, whose fish stocks are maintained through plantations. In general, Forest Services' fishing sites have great services such as lean-to-shelters and wood for campfires, so they are suitable for fishing trips for the whole family.
If trolling with more than one rod, a local trolling permit is required. Separate permits are also required for fishing with and crabbing with traps.
Responsible fishing
Finland has excellent fishing waters, and we want to keep them that way in the future. That's why it's important for a fisherman to be responsible: find out and follow the local rules, pay for a fishing permit, don't litter, and only catch the fish you're going to eat.
Catch and release is not very popular in Finland, although some fly fishermen practice it. Most often fish catch is used for food, but this does not mean that every fish caught must or even can be killed. Protected and undersized fish are required to be released by the Fisheries Act – whether they are alive or dead.
In addition, Featuring Finland encourages selective fishing. This means that also the largest fish individuals should be released, as they are extremely valuable for the continuity of the fish stock. It's much better to release a meter-long pike so it can reproduce than to ground it into fish sticks. While catching a giant pike is a once in a lifetime experience, much more delicious food is created from smaller pikes.
So, please release both the smallest and the largest fish. Thank you!
Fishing tackle for Finland
Finnish fishing waters can be managed with fairly simple gear. The strength of the rod and the thickness of the line are selected on the basis of the species being fished. In general, the equipment is light: even a large pike can be caught with light equipment. My own record is a 9 kg pike from a Helsinki shore with light-class tackle (catch and release).
Heavy pike fishing with jerkbaits requires a strong rod, but an average cottage fisherman is fine with much lighter tackle. In Finland, the weight classification of a common pike rod is 10-30 grams, and the thickness of the braided line is between 0.15 to 0.20 millimeters.
Zander and perch are fished with a notch lighter gear. Rainbow trout or grayling also require very light equipment: a rod suitable for 5-20 gram small lures and a 0.15 millimeter braided line. Too heavy a rod or thick line make it difficult to cast small lures.
Jerkbaits, spoons and spinners are used for casting pikes. The lure can be large, as a mere 1-kilo pike will strike a 15-20 cm lure without hesitating. Perch favorites include small spinners and rubber worms. For zander the best lure is a rubber worm. Wobblers are used for trolling. Did you know that world-famous Rapala is a Finnish brand?
The best lures in Lapland's waters are small red-and-black spinners. The most legendary grayling lure is Bete Lotto (12g, color BRG), because it can be casted far but it doesn't sink too deep – perfect features for lakes with very shallow shores. For fly fishing a sure choice is classic Red Tag. The fly rod classification suitable for Finnish waters is class 6.
Fishing with live bait is not practiced in Finland, except for earthworms (and maggots for ice fishing). The use of live bait (including worms) in streams and rivers is often prohibited by local rules.
Best urban fishing spots in Finland
The capital of Finland, Helsinki, was founded in 1550 in the salmon river estuary. Today, salmon rarely return to spawn in the Vantaanjoki River, but the Vanhankaupunginkoski estuary at the mouth of the river is still a very good fishing spot. Pike and zander in particular are caught in the large pool, but a lucky fly fisherman can also catch sea trout on it's way to spawn.
There are many other excellent fishing spots in Helsinki that are easily accessible by public transport. The western shore of Vanhankaupunginlahti bay is a popular spot for jigging the zander from the shore. The southern shore of Lauttasaari island is known for sea trout. In Lauttasaari and other shallow shores of Helsinki, in March-April, you can see hordes of fishermen angling whitefish with bottom rigs baited with earthworms.
Helsinki's most iconic fishing spot is the Lauttasaari Bridge, where crowds gather in May to fish for herring. A large bucket can be filled with herring only in a couple of hours. It takes much longer to gut hundreds of herring than to catch them!
There are many other urban fishing destinations in Finland. City fishermen can get their catch from rivers flowing in the centers of Tampere, Joensuu, Oulu and Rovaniemi, for example.
Fishing in Finnish lakes
Depending on the source, there are tens or even hundreds of thousands of lakes in Finland. You can go out on a rowing boat to fish from virtually any summer cottage, as long as the tackle and lures are right. In addition to larger lakes, almost every small lake – even a few hundred meters long forest ponds – offer wonderful fishing experiences.
In Southern Finland, Lake Lohjanjärvi and the lakes of Tampere region are known for their healthy population of zander. Päijänne and Puula with their clear waters are fine pike waters. Finland's largest lake, Saimaa, boasts a huge variety of fishing destinations.
In Eastern Finland, Pielinen is a highly regarded lake for fishing. So are many smaller lakes around Kuhmo area.
Going north, the fishing waters become even better. To the south of Kuusamo lies Hossa National Park, whose small lakes are known as a "fisherman's paradise". In addition, Hossa is a beautiful and easy hiking destination for the whole family, and rowing boats are available for rent.
Many wild rivers flow into Lake Inari, the most spectacular lake in Lapland. Lake Inari is a dream destination for trollers and paddlers looking for trout and arctic char. The enormous lake is sometimes very windy, but more than 3,000 islands provide shelter for smaller boats and kayaks. A few islands have places for campfires and even open wilderness huts. In good weather, you can set up a tent wherever you want, because there are really few cottages in Lake Inari.
Baltic Sea coast and Åland archipelago
Finland has thousands of kilometers of coastline on the Baltic Sea – as well as countless islands in the Archipelago Sea and Åland. This, of course, means there are a huge number of good fishing spots in the region.
The Baltic Sea is brackish water (not nearly as salty as in the Atlantic Ocean), so the target species are the same as in freshwater lakes and rivers. Trolling can bring salmon or trout, and casting pike, zander and perch.
Professional fishing guides can be found on the southern coast of Finland between Hanko and Kotka. The Åland archipelago is downright a legendary fishing trip destination.
Fishing on Finland's rivers
Many large rivers flow into the Baltic Sea. Most interesting for fishermen are Kymijoki, Merikarvianjoki and Tornionjoki rivers.
The Kymijoki River, which flows next to the city of Kotka, is by far the best salmon river in Southern Finland. Fishing areas can be found just north of the city. Langinkoski is a fly fishing area, and in Siikakoski it's allowed to fish with lures, too. Korkeakoski has a popular casting pier, where people fish with a fly tuned to a lead weight.
The smaller Merikarvianjoki meandering on the west coast is an excellent fishing destination, as the area has purposefully built services for the needs of fishing tourism. Sea trout, salmon and rainbow trout are caught in the Merikarvianjoki. Grayling is also a potential catch.
The Muonionjoki River, which originates from the fells in northern Käsivarsi region, flows 230 kilometers to the south until it joins the huge Tornionjoki River, which rumbles on the Finnish-Swedish border. The Tornionjoki-Muonionjoki river system is more than 400 kilometers long and is the best place in Finland to fish for salmon. The best grayling waters in Finland can also be found in the countless small headwaters of the highland areas.
Small rivers, with rapids suitable for brown trout and rainbow trout, can be found especially in Eastern Finland. An excellent river fishing destination is the Ruunaa Hiking Area on the eastern border. There are also many wonderful wilderness rapids slightly further to the north, in the Kuhmo region.
Almost all streams and rivers in Finland are protected from fishing during the brown trout spawning season in September-November.
Tight lines!
We anglers are a superstitious bunch. In Finland, you should never ever wish someone "good luck" for fishing. The proper way is to say "tight lines". Kireitä siimoja!
The map below has the best national parks in Finland, and many other recommended outdoor attractions like best day hikes, wildlife safaris, fishing spots and canoeing routes.
Did you like this article? If you're planning a trip to Finland, please book your hotel or rent a cabin by clicking on our affiliate links. We get a small commission, but you don't pay any extra. Thanks for your support!