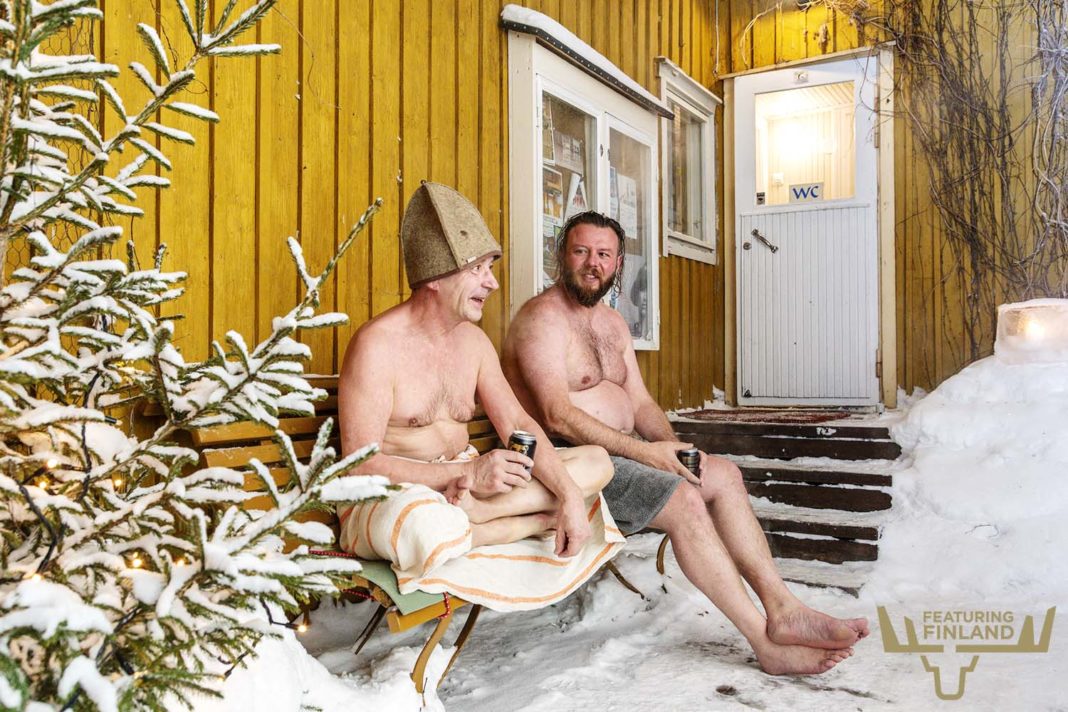 Sauna tradition is one of the most important parts of Finnish identity and cultural heritage. For us Finns sitting in a 100-degree sauna is everyday business, but for a novice it's an exciting (and highly recommended!) experience. In this article we explain what Finnish sauna is like, what are the dos and don'ts in a sauna, and where you can find the best public saunas in Finland.
Finnish sauna tradition
Sauna has always been an important part of Finnish way of life. Loved ones have been born, bathing and even washed for their final journey in a sauna. As late as the 19th century, people of the remote areas of Finland were living in smokehouses, which resembled present-day smoke saunas – with the difference that a smokehouse was the whole home, not a separate building only for washing.
Smoke sauna is the most traditional Finnish sauna, a kind of Rolls Royce of saunas. However, smoke saunas are rare, as heating them is quite a laborious and time-consuming project. Typical saunas are continuously-heated wooden saunas in summer cottages and electric saunas in city apartments.
It's estimated that there are about three million saunas in Finland – in other words, a sauna for every other Finn! Can this be true?
No one knows for sure the number of all saunas in Finland, but such an incomprehensible figure is explained by the fact that many families actually have two saunas: one at home (even many apartment buildings have a small electric sauna), and the other in a summer cottage.
In addition to private saunas, saunas can be found in spas, swimming pools, hotels, resorts, campsites and corporate buildings (yes, in Finland business is often done on sauna benches). In the basement of almost every apartment building there is a sauna, where residents can book their own weekly shifts, if there is no sauna in their own apartment.
Not to mention commercial saunas: a group of friends can rent a simple beach cottage, a floating sauna raft on a lake, or even a luxury sauna in a penthouse in the city center.
When various sauna-themed events are added to this equation – such as Mobile Sauna Festival (saunas built inside vans or trailers) or Sauna Day (ordinary Finns open their private saunas to strangers) – it's no wonder that Finnish sauna can be found on the UNESCO list of intangible heritage. Other similarly recognized cultural traditions include Indian yoga, Argentine tango and Arabic coffee culture.
Almost 90% of Finns take a sauna once a week. The most traditional time to take a sauna is Saturday night. The most important sauna days of the year are also the biggest holidays of the year: Christmas and Midsummer.
Finnish sauna etiquette and customs – tips for beginners
In your private sauna you can enjoy silence and relax by lounging on the benches. Public saunas, on the other hand, are social places where you should be prepared to chat with strangers.
Traditionally the Finnish sauna is taken without clothes, but this depends entirely on the place and your company. For example, a towel or swimsuit is usually kept on among relatives in a summer cottage sauna. When friends visit the sauna, men and women often have their own turns – it's not very common to have a mixed sauna with a large group.
Saunaing has nothing to do with sex. As a matter of fact, any references to sex in the sauna are especially tasteless to Finns.
For hygienic reasons, you must always take a shower before going to the sauna. Use a cloth or disposable seat cover under your bottom.
Saunaing is safe and healthy for anyone. Only newborn children and people with severe heart disease should avoid taking a sauna.
The normal temperature of the sauna is 70-90 degrees. A 100-degree sauna is also common, but for many it's already too hot. 120 degrees is sheer macho.
Fortunately, you can control the temperature by yourself very easily: the lower benches are not as hot as the upper benches. Usually toddlers sit lower, but of course anyone can do that. But keep in mind: only those sitting on a hot upper bench are allowed to throw water on the stones, because the steam strikes hardest higher up. Warm water is used for steaming.
You should sit in the sauna for a short period at a time. A suitable duration is 10 minutes, after which an equally long cooling break is taken outdoors. This is repeated a few times: for example, a sauna session with three steam rounds is quite common.
At a summer cottage, take a dip from the sauna to cool off in the lake. In winter, you can make a hole to the ice, or jump from the sauna to powdery snow. Of course, you can also just cool off in the sauna changing room.
Drinks are not allowed on the benches in public saunas, but in the cottage sauna you sometimes sit with a beer can in hand. However, it is better to keep drinks cool outside and treat hydration during cooling breaks. In the sauna, you should drink plenty: water, beer, or preferably both!
A special way related to the sauna is whipping. While it may look painful, the purpose is to beat the skin only softly and thus accelerate sweating. You can buy dried or frozen birch whisks, which are almost like fresh after heating them in water. Remember that in a summer cottage, you can't make a whisk from yard trees without the permission of the landowner.
Top Finnish saunas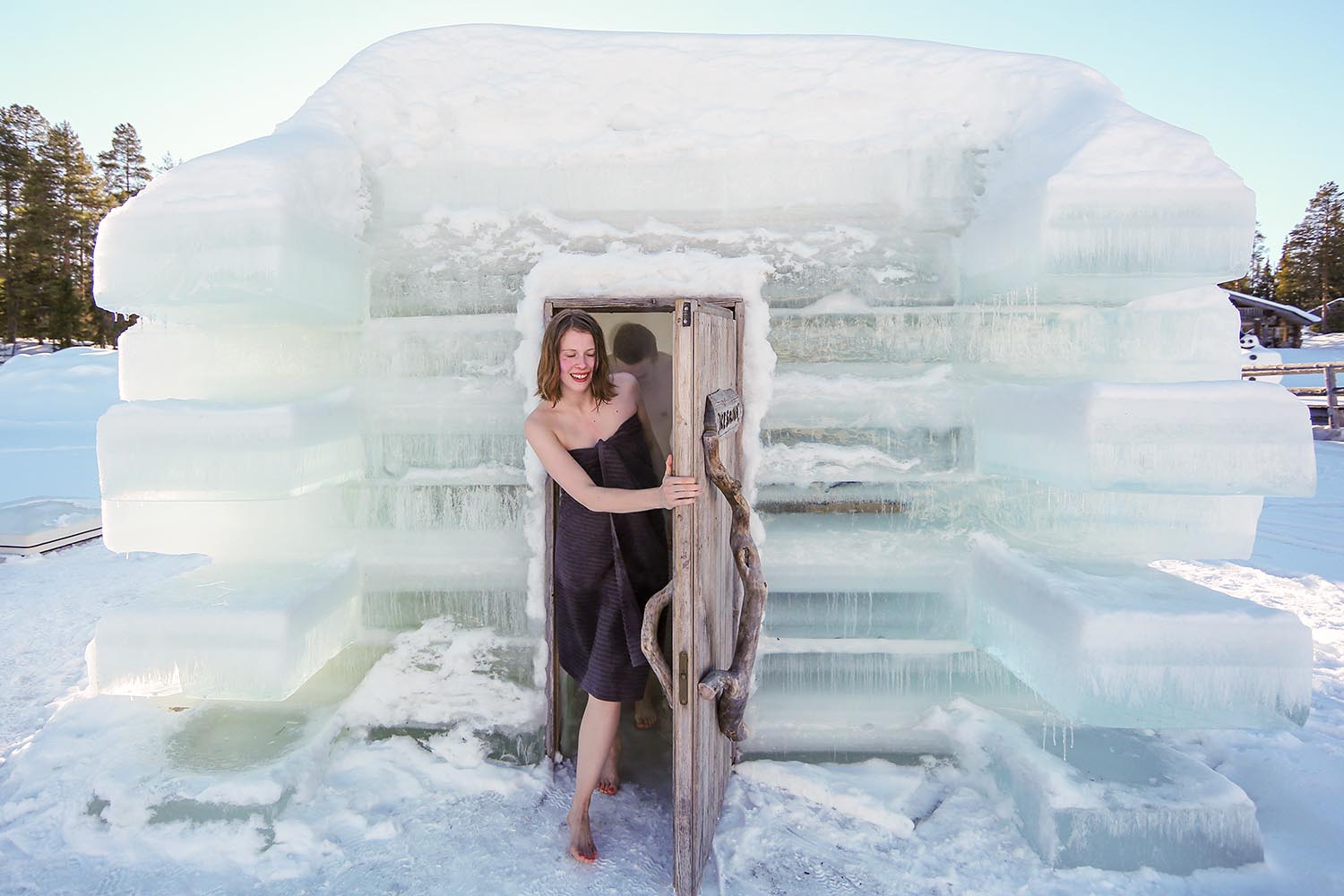 In Finland there are many public saunas, where tourists can experience the bliss of an authentic Finnish sauna. The entrance fee varies between 12 and 25 euros, and a towel can be rented at an additional cost.
Some of the saunas mentioned below are mixed saunas with swimwear on. Some have nude saunas for men and women in separate wards. Of course you can wear a towel in these, too, but usually swimwear is not allowed.
Best saunas in Helsinki
Helsinki's most traditional saunas are Kotiharju Sauna and Arla Sauna. Both can be found in Kallio, which once upon a time was a workers' district. A visit to these local saunas is like a time travel back a few decades, when all workers of the neighborhood gathered once a week to take a sauna and chat about everything possible.
Löyly, whose name means the moist breeze rising from the sauna heater, offers the most modern sauna experience in Helsinki. The wooden building, which represents striking contemporary architecture, has been praised in several international architectural magazines. Despite the modern approach, Löyly's saunas are orthodoxly heated with wood – and a smoke sauna is available, too. For shy tourists (and families with children), Löyly is an easily approachable destination, as swimming suits are worn in mixed saunas.
Another modern sauna can be found right next to the Market Square. Allas Sea Pool is a year-round sea spa where you can take a dip in a hot tub or cooler seawater pool.
Sompasauna is dubbed as "the most public sauna in Helsinki", and for a reason: this underground sauna is open all the time, for everybody, and for free! Yes, Sompasauna really is open 24/7/365 – as long as you chop the firewood and heat the stove, since there is no staff. Nor service, or even showers. You can bathe nude or wear a swimsuit. Bring your own towel and a padlock for lockers.
Kuusijärvi, known for its outdoor trails, awaits you in Vantaa, north of Helsinki. This small lake has a tiny beach and legendary smoke saunas. The specialty of Lake Kuusijärvi is that in winter you can take a dip in the lake through a hole in the ice.
Read more: Helsinki and Southern Finland – Travel Guide
Best saunas in Tampere
Tampere is known as the sauna capital of Finland (and at the same time the whole world), so strong is Tampere's sauna culture. The city's most famous sauna is Rajaportti Sauna, which was opened already in 1906 – Rajaportti is the oldest public sauna in Finland. A visit to the steam baths of the Rajaportti sauna is an adventurous experience, because frankly, the sauna is rugged and goddamn burning hot. However, a brave tourist definitely gets a story that is worth telling at home. This place is hardcore even for most Finns!
A modern and extremely pleasant sauna experience is available at Sauna Restaurant Kuuma by the river that crosses the center of Tampere. This landscape sauna is connected to a trendy restaurant and is perfect for first-timers and even families with children. There's no nudity and swimsuits are mandatory in the mixed saunas. In winter, you can take a dip in the freezing river from the sauna.
Rauhaniemi Folk Spa is located a couple of kilometers north from the center of Tampere. Rauhaniemi, next to a public beach, has two saunas, the larger of which can accommodate up to 50 people at a time. Here, too, you can jump into the lake in winter.
Best saunas in Kuopio
In Kuopio, it is worth visiting the Spa Hotel Rauhalahti's Jätkänkämppä, where you will find the largest smoke sauna in Finland. This mega-sauna can accommodate a total of 60 people at a time. Unfortunately, this sauna is only heated by reservation, meaning it's best suited for groups and events. Fortunately individual sauna-goers have access to the smoke sauna on Tuesdays, when a weekly banquet is held in Jätkänkämppä. In addition to the smoke sauna, there is a traditional buffet dinner at the former log cabin.
Kuopio also has a modern sauna world. Located in the city center, Saana looks a bit spa-like with hot tubs and funky adventure showers, but there is a smoke sauna here, too.
Best saunas in Lapland
The honorary title of the best sauna in Lapland is awarded to smoke sauna at Kiilopää Fell Center. The sauna – whose atmosphere was described at the beginning of this article – is heated on Tuesdays, Wednesdays and Fridays. In addition to the awesome steam, the attraction of Kiilopää smoke sauna is a dip in the icy mountain stream flowing past. Water is quite refreshing both in summer and winter!
Holidaymakers in Western Lapland should pay a visit to Arctic Sauna World near Muonio, where you will find five different saunas. This is not a spa, as instead of hot tubs and swimming pools, sauna-goers can take a dip in beautiful Lake Jerisjärvi. Near to the sauna world there's accommodation available: family-size modern cottages and glamping tents that resemble trendy glass igloos with their landscape windows.
Another highly recommended saunas in Western Lapland can be found near Levi ski resort. Sammun Tupa warms up on Thursday evenings by the Ounasjoki river. On other days, the place is a rental sauna, like many of Levi's excellent saunas. An individual tourist can get to know the best saunas in Levi during the Levi Sauna Festival in September.
Rovaniemi has one of the only public saunas in Lapland. Located on the banks of the Kemijoki River, Kesärafla is open during the summer. Admission to the sauna with your own towel is free. Why? Because next to the sauna there is a restaurant, where you can (and should) enjoy a beer and a reindeer burger grilled on a charcoal grill.
One of the most special winter experiences in Rovaniemi is the Arctic Snow Hotel. In addition to the snow hotel, glass igloos and restaurant, this freezing cool place also has the most special sauna in all of Lapland. Yes, an ice sauna, with a combination of hot humid steam and icy snow walls. Of course, there is also a traditional log sauna and outdoor hot tubs.
Read more: Lapland – Epic Outdoor Experiences in Northern Finland
Video: Sauna culture in Finland
Map of Finland's best travel attractions
The map below shows the best tourist sights, museums, family attractions, hiking trails, outdoor activities, wildlife safaris and ski resorts of Finland.
Did you like this article? If you're planning a trip to Finland, please book your hotel or rent a cabin by clicking on our affiliate links. We get a small commission, but you don't pay any extra. Thanks for your support!